Douglas Wright Group offers expert commercial cleaning in Sydney, helping companies keep their business spaces thoroughly cleaned, disinfected, and always looking their best. Our meticulous cleaning professionals specialise in servicing various industries, including:
Retail
Showroom
Bank
Health & wellness
Medical
SME
School
Daycare
Sport
Leisure & hospitality
Get in touch today to schedule an inspection and receive a free quote!
Why Choose Our Commercial Cleaning Services in Sydney?
At Douglas Wright Group, we use the latest equipment and techniques to ensure that your premises are cleaned to the highest standards. We understand that different businesses have different cleaning needs, which is why we offer cleaning solutions tailored to your specific requirements and budget.
As your trusted commercial cleaner in Sydney, we take your and your employees' safety seriously. As such, our highly experienced team follow strict safety protocols to ensure that our cleaning services are carried out in a safe and responsible manner.
Highly Experienced
With more than 30 years of industry experience, we know how to make your commercial spaces sparkling clean and hygienic. So, if you're looking for highly reliable commercial cleaners in Sydney, look no further than us!
No Contracts
We will not lock you into any expensive contract that you can't get out of. Whether you need daily, weekly, or monthly cleaning, Douglas Wright Group can provide a schedule that works best for you and your business.
Fully Insured Cleaners
At Douglas Wright Group, all our cleaners are on time, reliable, and fully insured for your peace of mind. We handpick only highly trained cleaning staff who are knowledgeable about the best cleaning practices.
Satisfaction Guaranteed
When you work with us, you can rest assured that we'll leave your workspace sanitised and with a positive vibe. If you're looking to maintain a clean and healthy working environment, reach out to our team today!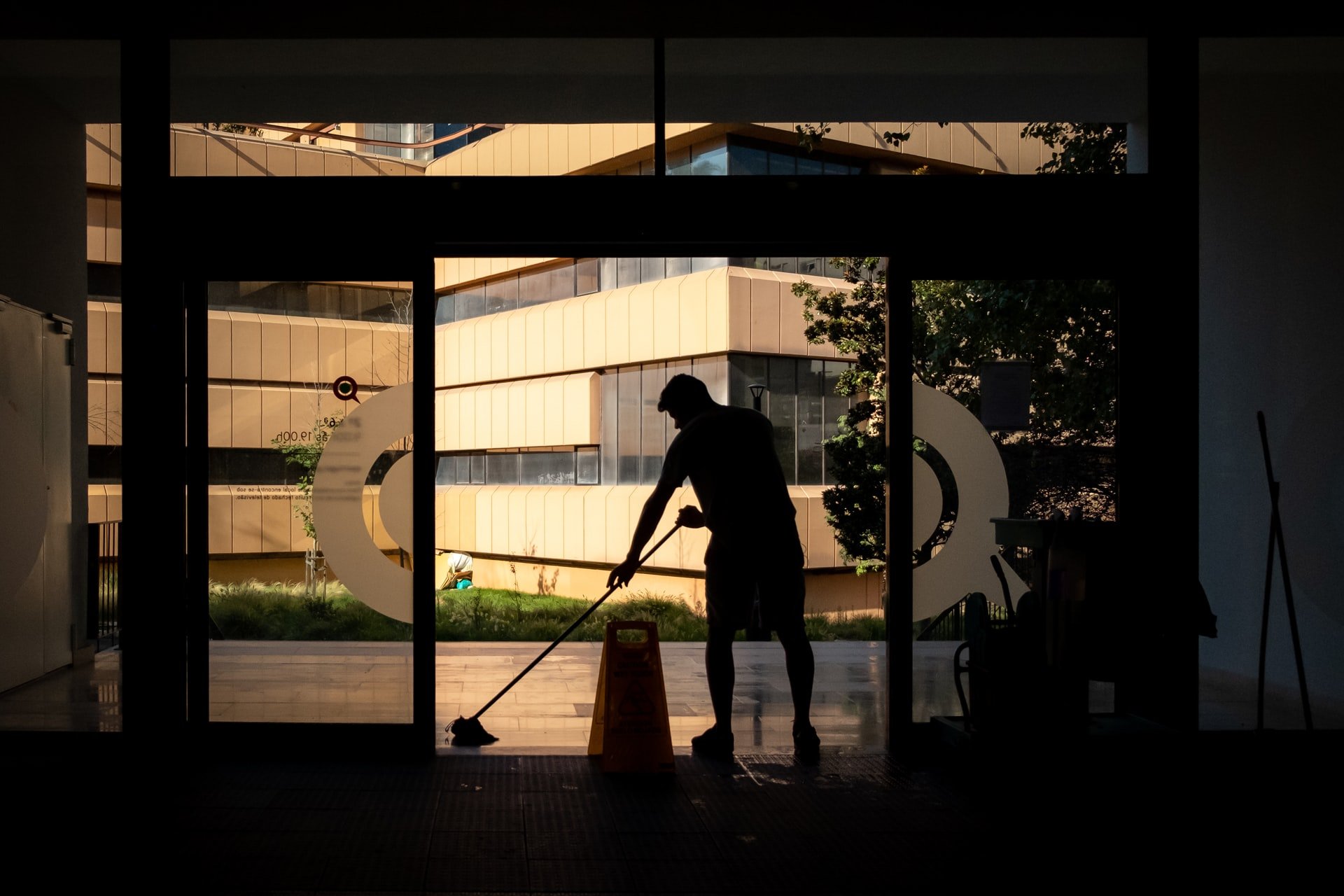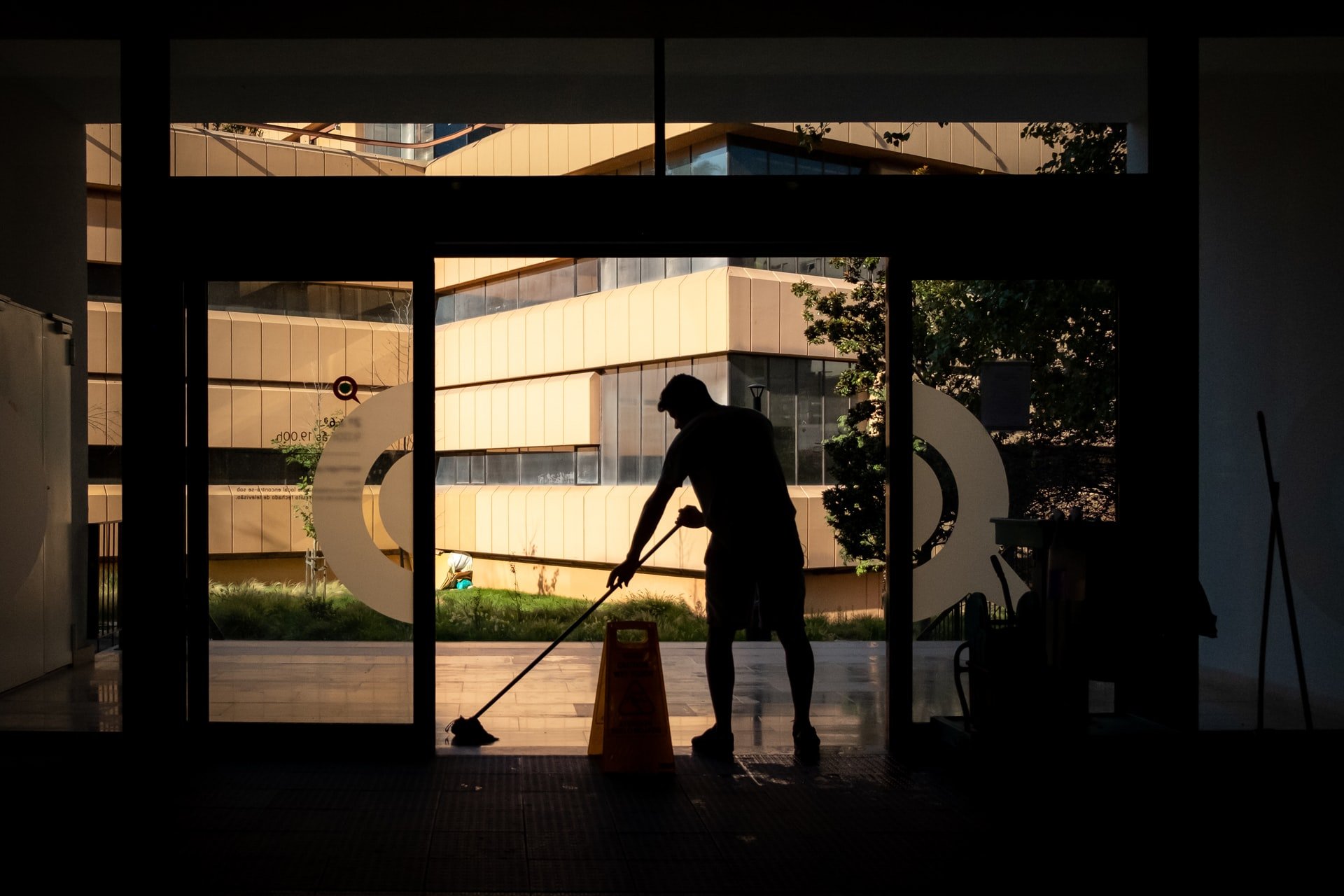 Frequently Asked Questions About Our Sydney Commercial Cleaning Services
We understand that you may have some questions about our product or service, and we're here to make sure that you have all the information you need. To help you better understand how we can help you, we've answered some of the most common questions that our customers ask us. Feel free to reach out to a member of our team if you need further clarification.
What Are the Benefits of Hiring Commercial Cleaners?
Hiring professional cleaners can help you maintain a clean and healthy work environment, increase productivity, and save time and money in the long run. For high-end cleaning services, contact the team at Douglas Wright Group today!
How Often Should My Commercial Space Be Cleaned?
The frequency of cleaning will depend on the size and type of your commercial space, as well as your specific cleaning needs. Touch base with our expert team today to determine a cleaning schedule that will work best for your business.
What Services Are Included in Your Commercial Cleaning Services in Sydney?
At Douglas Wright Group, our commercial cleaning services typically include:
Floor cleaning
Dusting
Vacuuming
Bathroom cleaning
Window cleaning
Carpet cleaning
Pressure washing
How Do I Choose a Commercial Cleaning Service?
When choosing a commercial cleaning service, it's important to consider factors such as experience, reputation, and pricing. At Douglas Wright Group, we are committed to providing you with the highest quality cleaning services with the utmost integrity.
What Cleaning Products Do Your Commercial Cleaners in Sydney Use?
Douglas Wright Group uses a variety of cleaning products, depending on the specific needs of our client. To ensure a safe and healthy work environment, we only use eco-friendly, non-toxic cleaning products.
Do I Need to Provide Cleaning Supplies for the Service?
No. We'll come fully prepared with our own commercial-grade cleaning supplies and equipment. However, if you prefer to use your own cleaning supplies, just let our team know.
How Much Does Commercial Cleaning Services in Sydney Typically Cost?
The cost of commercial cleaning will vary depending on factors such as the size of your space, the frequency of cleaning, and the specific services needed. Contact us today to request a free quote.
How Can I Ensure the Quality of the Cleaning Service?
To ensure the quality of commercial cleaning in Sydney, make sure to communicate your specific needs and expectations with your service provider. At Douglas Wright Group, we provide regular inspections or audits to ensure that our services meet your standards.
Contact Information
Whatever your needs are, large or small, contact Douglas Wright 24/7 for an obligation free quote.
Email: operations@douglaswright.com.au
Address: 5/20 Barcoo St, Roseville NSW 2069